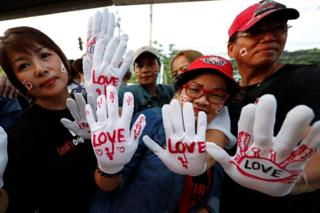 Former Thai prime minister Yingluck Shinawatra has failed to show up for the verdict in her trial over a controversial rice subsidy scheme.
The supreme court has delayed the verdict to 27 September and has issued an arrest warrant.
Ms Shinawatra, who is on trial for negligence, has denied wrongdoing in the scheme which cost billions of dollars.
If eventually found guilty, she faces jail and a lifetime ban from politics.
Ms Yingluck, who became Thailand's first female prime minister in 2011, was impeached in 2015 over the rice scheme.
But she remains popular. Hundreds of her supporters turned up outside the Supreme Court in Bangkok ahead of the verdict, amid a heavy police presence.