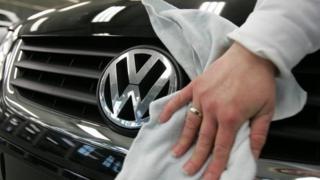 Supervisory boards at two big German carmakers are to hold emergency meetings later after they were accused of breaching EU cartel rules.
Volkswagen and Daimler have declined to comment on the allegations that they and other German car giants colluded to fix the price of diesel emissions treatment systems.
The claims first surfaced on Friday in a report by Der Spiegel magazine.
The issue is under investigation by EU and German anti-trust regulators.
Companies found to have infringed EU cartel rules are liable to pay fines of up to 10% of their global revenue.
Other firms under investigation are BMW, Porsche and Audi.
The German car industry is also dealing with the fallout from the 2015 diesel car emission-rigging scandal, which erupted after Volkswagen was found to have cheated official tests by using special software to produce artificially low pollution levels.
VW, the world's largest car manufacturer, has admitted about 11 million cars worldwide were fitted with the device.
Last year, a US court ordered VW to pay a $14.7bn (£12bn) settlement over the scandal.