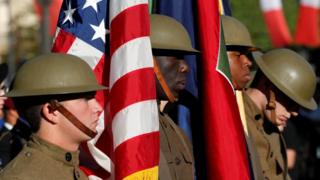 President Donald Trump is guest of honour at a Bastille Day parade in Paris, where US and French troops will march together down the Champs-Élysées.
The parade – marking 100 years since the Americans entered World War One – will also feature horses, planes and helicopters.
French President Emmanuel Macron, standing in a military jeep, inspected the troops lined up on the avenue.
Earlier Mr Trump said "the fight for freedom" united the US and France.
Mr Macron travels to Nice later to join commemorations there of last year's Bastille Day terrorist attack, in which 86 people were killed by a lorry.
On Thursday, Mr Trump suggested he could review his position on climate change, after Mr Macron argued in defence of the Paris accord.