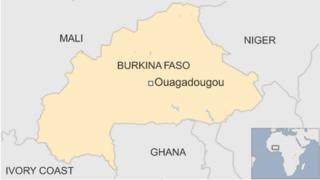 Three people are reported dead after suspected jihadists launched an attack n the centre of the capital of Burkina Faso, Ouagadougou.
Witnesses were quoted as saying that three gunmen opened fire on customers seated outside a hotel and restaurant.
The city centre has been sealed off by the army, and the US embassy in Ouagadougou has warned its citizens to avoid the area.
A jihadist attack on a cafe nearby left 30 people dead in January last year.
There are fears that the attack is the work of one of the affiliates of al-Qaeda that are active in the Sahel region, the BBC's Alex Duval Smith reports.
The shooting began shortly after 21:00 (21:00 GMT) on Sunday on Ouagadougou's busy Kwame Nkrumah Avenue.
Two locations, Hotel Bravia and the Istanbul Restaurant, appear to have been at the centre of the attack.
"We evacuated 11 people but one of them, a Turk, died on arriving at hospital," a paramedic told the AFP news agency. The other people hospitalised are reported to be in a critical condition.
The attack is similar to one in January 2016, when the Splendid Hotel and the nearby Cappucino restaurant, also on Kwame Nkrumah Avenue, were targeted.
Over 170 people were taken hostage and 30 were killed. Al-Qaeda claimed responsibility for that attack.
Burkina Faso is part of the Sahel region, which includes Mali where Islamist groups have been active since 2012.