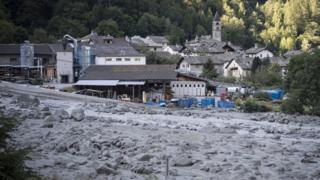 Eight people are missing following a landslide in south-eastern Switzerland, police say.
The landslide on Wednesday forced the evacuation of several villages in the Val Bondasca region, officials said.
German, Austrian and Swiss citizens are among those missing, Graubünden cantonal police said in a statement.
Pictures from the scene show rocks and debris scattered across roads. A helicopter is helping in the search and rescue operation, Swiss media report.