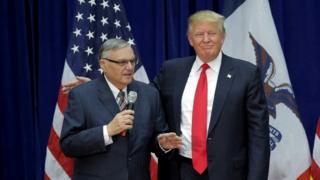 US President Donald Trump has pardoned Arizona sheriff Joe Arpaio, who had been convicted of criminal contempt.
Arpaio, 85, was found guilty after he defied a court order to stop traffic patrols targeting suspected immigrants. He was due to be sentenced in October.
The president had hinted at the pardon at a rally in Phoenix on Tuesday.
Mr Trump has frequently praised the sheriff who is known for his controversial hard-line stance on immigration.
Arpaio frequently appeared on the campaign trail with Mr Trump in 2016.