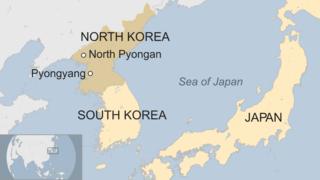 North Korea has fired a ballistic missile from its western region, say Japanese and South Korean authorities.
It was launched at 09:40 local time (00:40 GMT), from Banghyon in North Pyongan Province, reported Yonhap news agency citing South Korea's military.
Tokyo said the missile may have landed in their exclusive economic zone in the Sea of Japan.
North Korea has ramped up nuclear and missile activities in recent months despite international sanctions.
Tuesday's missile travelled about 930km (578 miles) and flew for about 40 minutes, according to South Korean and Japanese authorities.
Have North Korea's missile tests paid off?
Japan's chief cabinet secretary Yoshihide Suga told reporters: "North Korea's repeated provocations like this are absolutely unacceptable. We lodged a strong protest and condemned it."
South Korea's recently-elected President Moon Jae-in has called for an emergency meeting of the country's security council.
The launch comes a day after US President Donald Trump spoke on the phone separately with Japan's Prime Minister Shinzo Abe and China's President Xi Jinping about North Korea.
The leaders reaffirmed their commitment to a denuclearised Korean Peninsula.
Mr Moon also met with Mr Trump last week, with the US leader warning Pyongyang of a "determined response"..