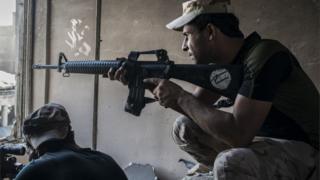 Iraqi forces say they have launched an assault on Mosul's Old City, the last district held by so-called Islamic State.
Special forces are advancing on the district from the west and federal police are on the southern front, a statement said.
The UN says as many as 100,000 civilians are believed to be trapped in the densely populated Old City.
They have been told to leave the area if they can.
About 230 civilians have been killed in western Mosul in the past two weeks, the UN says, some in air strikes and rocket attacks, and others shot dead by IS snipers as they tried to flee.
Iraqi forces have told the BBC that they do not know how many IS militants are holed up inside the Old City.
Residents who have recently escaped from the area have described desperate conditions, with many people running out of food and water
The US-backed offensive to retake Mosul – Iraq's second city – is now in its ninth month. Iraqi forces retook the eastern part of the city in October.
Thousands of Iraqi security forces, Kurdish Peshmerga fighters, Sunni Arab tribesmen and Shia militiamen, assisted by US-led coalition warplanes and military advisers, are involved in the offensive
IS overran Mosul in June 2014, routing the Iraqi army, and shortly afterwards declared it was establishing a caliphate over the territory it then controlled.