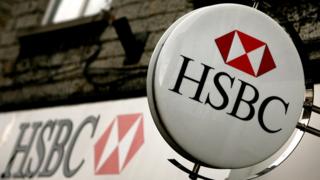 HSBC has reported a 5% rise in profits in the first half of 2017.
Europe's biggest bank reported a pre-tax profit of $10.2bn (£7.8bn) for the first six months, up by about $500m.
As widely expected, the bank has also announced a share buyback of up to $2bn which it expects to complete by the end of 2017.
HSBC's share price has rallied in the past year, helped by the weak pound which makes profits earned abroad more valuable when repatriated to the UK.
Since the 2008 financial crisis, HSBC has been cutting jobs and selling assets to make the group more profitable while still making dividend payments to shareholders
"In the past 12 months we have paid more in dividends than any other European or American bank and returned $3.5bn to shareholders through share buy-backs," HSBC's chief executive Stuart Gulliver said.
The bank has used share buybacks to offset the impact of shares being paid out as dividends.
The announcement takes the total of HSBC share buybacks since the second half of 2016 to $5.5bn.
Over the past year, HSBC's share price has risen from less than 500p to 743p.
"Like many of the other banks, HSBC has beaten modest expectations," said Peter Hahn, of the London Institute of Banking and Finance.
HSBC said it had spent about $500m on splitting its retail from its investment banking arm, which it described as "one of the largest projects ever undertaken by the group". The bank's new Birmingham headquarters for its UK retail business will begin operating in July 2018.
"The ring-fence is a big expense creating lots of uncertainty," said Mr Hahn. "It's not just the headquarters, it's separating lots of the systems in the bank."