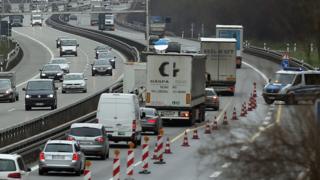 Thirty-one people were injured and 17 are unaccounted for after flames engulfed a tour bus that crashed on a motorway in southern Germany.
The bus was in a collision with a lorry on the A9 near Hof, north of Nuremberg.
Some passengers have grave injuries and there are fears that several others may have died. Several rescue helicopters joined emergency workers at the scene.
A police spokesperson told the DPA news agency: "Realistically we have to expect some fatalities."
Police have blocked the motorway as rescue efforts continue. It is not yet clear what caused the collision.