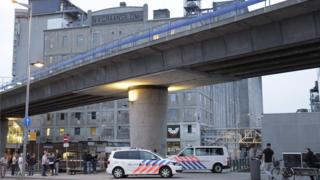 A rock concert in the Dutch city of Rotterdam has been cancelled and a van containing gas canisters found nearby after a tip-off from Spanish police, the city's mayor says.
The driver of the Spain-registered van was detained by police, Mayor Ahmed Aboutaleb told journalists.
The Maassilo venue said a gig by US band Allah-Las had been cancelled in connection with a terror threat.
Mr Aboutaleb said it was not clear if the van and the threat were linked.
The driver of the van was arrested on Mijnsherenlaan and taken for questioning, police said.
"The ring that the police set up around the concert hall led to the detention of a bus with gas bottles," Mr Aboutaleb said.
"Whether the bus with gas bottles can be linked to the threat, that cannot now be established," he added, warning against "swift conclusions".
A bomb squad was examining the van, reports said. Police wearing bulletproof vests were at the venue, which was evacuated and concertgoers were turned away.
In an interview last year, the group told The Guardian newspaper that they regularly received messages from Muslims offended by the use of the word Allah – Arabic for God – in its name.
The group said it had wanted a religious-sounding name after being inspired by the group Jesus and Mary Chain.